How to reach us
We prefer you email us at info@goldfinch.dk to contact us. We respond within 36 hours (excluding holidays).
Our phone line is reserved for those who have (or would like to have) a booking for today, so if you need to speak with us, our phone line is open between 14:30 – 1/2 hour before closing daily.
Please note that our staff are in the restaurant serving guests at the same time, so we can only assist with the current day's bookings over the phone. All other questions will be directed to email.
Or maybe your question will be answered below?
FAQs
Q: Do you have wheelchair accessibility?
A: Yes, we do! Our entrance doesn't have steps, and we do have accessible restrooms. Please just tell us in your booking if you or someone in your party is in a wheelchair (or other) and that will help us a lot to give your party the appropriate seating arrangement.
Q: Are children allowed?
A: Yes! We're a Chinese restaurant and definitely believe in multi-generational dining. Please include younger diners in the number for your booking and let us know if you need a high chair since we only have a limited number of those as well. Space in the dining room is limited though, so we would definitely recommend a carrier for your youngest guests, as we don't always have room for prams in the restaurant.
Q: Do you have any vegan or vegetarian dishes?
A: Yes, we have plenty of options, just ask your waiter what's available on the night of your visit.
Q: What are my parking options if I'm driving to the restaurant?
A: Send us an email at info@goldfinch.dk where we can give you more detailed instructions on where you can park close by.
Q: Can we bring our own wine?
A: This will only be on a case by case basis with approval from the restaurant's sommelier. Please write us an email at info@goldfinch.dk where we can find out what the conditions are.
Q: I'm celiac/allergic to gluten. What can I eat?
A: A limited number of dishes – we are a Chinese restaurant, and as such soy sauce is in most of our dishes and cannot be removed. We are happy to offer what we can, but please note it won't be a large majority of the menu, nor will you be able to share dishes.
How to find us
Find us in the backyard behind Esmee.
Stop by whenever; We always leave room for walk-ins if you are feeling spontaneous!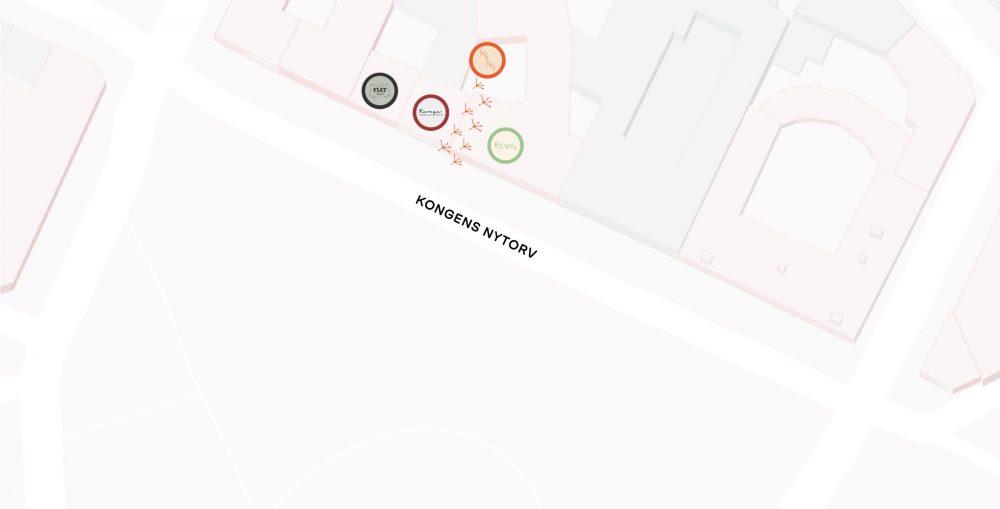 Contact
Adress:
Kongens Nytorv 8, st tv
(in the backyard behind Esmee)
1050 Copenhagen
Email: info@goldfinch.dk
Phone: +45 3164 6661
Opening hours
Monday

17.30 – 24.00

Tuesday

17.30 – 24.00

Wednesday

17.30 – 24.00

Thursday

17.30 – 01.00
Friday

17.30 – 02.00

Saturday

17.30 – 02.00

Sunday

17.30 – 24.00
Our full menu is available everyday between 17:30 – 22:00.
Thursday – Saturday from 22.00 – 24.00 the kitchen will be serving an abridged menu of snacks and smaller dishes.
Last round in the bar is 30 minutes before closing.